First Hawaiian Bank: The Future of Contactless Credit & Debit Cards
Sponsored By: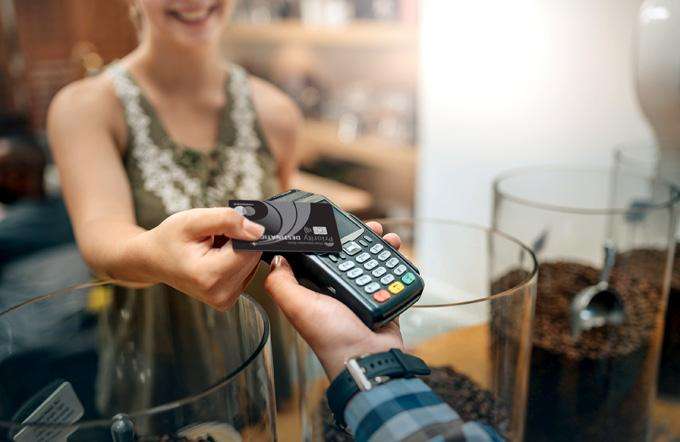 What used to be considered convenient – swiping or inserting your credit card into a reader – may soon become antiquated. Contactless technology has become increasingly popular as more and more consumers crave even speedier, safer, and easier ways of making credit and debit card transactions.
In a trend accelerated by Covid-19, financial institutions across the country are embracing contactless payments to create safer transactions for consumers and merchants by limiting physical contact with terminals and people at point-of-sale (POS). First Hawaiian Bank was the first local bank to issue contactless credit and debit cards in June 2020, allowing consumers to simply pay for purchases by "tapping" their card at a contactless terminal. Using a contactless card is quicker than using cash and as secure as dipping a chip card, and it also encourages safety through social distancing.
But how exactly do contactless credit and debit cards work? Are they reliable and secure? At First Hawaiian Bank, we've compiled everything you need to know about the latest trend in payments technology.
What Are Contactless Cards?
Contactless payment technology is not technically a new feature, but it is only recent that its use in credit and debit cards has become widespread. This technology has been heavily used in public transit booths in cities such as Chicago and London since the early 2010's. Since then, contactless transactions have steadily grown in popularity and are just now gaining the buzz they deserve in other technology applications.
Contactless cards use a technology called near-field communication, or NFC for short, which is the same NFC technology that enables mobile payments at POS through Apple Pay and Google Pay. Contactless cards are increasing in popularity as customers demand more options, convenience, and security when making payments.
How Secure are Contactless Cards?
Anytime a new technology is introduced, it can be unsettling for consumers. However, while hackers are increasingly savvy and aggressive, technological advancements like contactless cards help to safeguard and protect sensitive data, including financial and personal information. Contactless card payments are just as secure as those using an EMV chip card. Although the card is not inserted into the POS terminal, contactless cards have the same security standards used in credit or debit cards with EMV chip technology. The chip still generates a dynamic, unique code each time the card is used to make a payment. The special code reduces the risk that your card information can be used for fraudulent purposes so users can choose which transaction method they prefer with the same level of confidence that their information will be protected.
Even with advanced security measures in place, all consumers should regularly monitor their accounts to ensure their information has not been compromised. This goes for any type of credit or debit card that you have. Take the time to review your statements each month and mark off any suspicious-looking activity. If you suspect your card is lost or stolen, or you think someone else may have gained access to sensitive information, please contact us immediately at 808-844-4444 or toll free at 888-844-4444 for Customer Service Center or 808-847-4444 for BankCard to deactivate your card and get a replacement.
How To Get a Contactless Credit or Debit Card from First Hawaiian Bank
All customers who apply for a new First Hawaiian Bank credit or debit card will receive a contactless card. Existing First Hawaiian Bank credit or debit cardholders will automatically receive a new contactless card before the expiration date of their current card. Cardholders who would like a contactless card before then can call 808-847-4444 or toll free at 888-844-4444 to request one.
For more information on First Hawaiian Bank's contactless credit and debit cards, please visit our website here.
Visit fhb.com/resourcecenter for more articles and information about personal and business banking, credit, information security, and fraud prevention.
This is a paid advertisement. The views and opinions expressed in this article are those of the advertiser and do not reflect those of the West Hawaii Today and Oahu Publications Inc.